Podcast: Play in new window | Download (Duration: 2:28:13 — 85.3MB)
Trudi Daniels (@TrudiDan) and Marc Fellhauer (@MarcFell) today!
A new biopic on John DeLorean, abortion in the news, sexy serial murders that aren't Ted Bundy, Robert Kraft gets off again, Prosecutor Eric Smith's nice house, parallel parking is fun, and 1997 Howard Stern on the Drew & Mike Show.
Zuves has a secret & it's not that Trudi's TV doesn't work.
The Alabama abortion law is a huge story that Drew doesn't want to talk about & Trudi thinks could be avoided by offering 'destination abortions'.
New Kansas City Chief Frank Clark managed to play down his involvement in the domestic violence case that got him dismissed from the University of Michigan.
Britney Spear's manager Larry Rudolph got a bit dramatic when he claimed that Britney may never perform again.
Trudi couldn't finish watching the Zac Efron Bundy flick because Bundy month already ended. This prompts us to run some serial killers by her for the purpose of establishing seeds in her upcoming serial killer bracket.
Alec Baldwin took a break from berating paparazzi with homophobic slurs to star as John DeLorean in the upcoming biopic Framing John DeLorean.
Steve Thomas from the Humane Society sent BranDon his condolences about the loss of Little Bill, as well as a care package to completely restock the green room.
Rob Wolchek stopped by Red Shovel Studios during the ML Soul of Detroit podcast to promote the upcoming charity basketball game between Fox 2 & Local 4.
While Rob was in studio, Drew managed to get an update on Survivor loser Mike Skupin who got out of prison & changed his name.
Turns out it's not just podcast charts that can be gamed, but so too can the New York Times best sellers list.
With Howard Stern Comes Again out now, we take a listen back to the time Howard beat up on a bunch of Stern clones called Drew & Mike.
A proposal is being voted on to eliminate the parallel parking portion of the driving test. This prompts Drew to brag about his parallel parking skills…OOooooOOooo!!
Macomb County prosecutor Eric Smith has a beautiful house (that might have been paid for via civil forfeiture) as shown on footage taken from the State Police raid of his home.
Gregory McQueen killed his wife, gave a half assed apology & ended up with only 27 years. Time once again for the Star Chamber.
The women involved with Robert Kraft & the Orchids of Asia won't testify against him & the video won't be released, so Kraft is going to get off again.
Blac Chyna allegedly threatened to knife her hairstylist after she had the nerve to ask Chyna to pay up.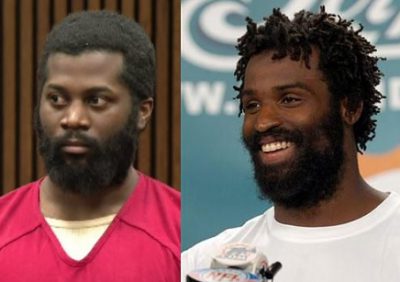 Which one is a Heisman Trophy winner? ©WDIV/AP