Podcast: Play in new window | Download (Duration: 2:22:48 — 82.2MB)
Trudi Daniels (@TrudiDan) and Marc Fellhauer (@MarcFell) are here today!
RIP Mr. MeToo, Happy Presidents Day, Millennials can't buy houses, Audrie & Daisy doc, new Tom Petty music, the Elvis 'All-Star' tribute, bad National Anthems and Drew & Trudi are looking to off their POS houses.
The new show line (209) 66-BONER is up & running. Call or text the show.
Chicago PD wants to see Jussie Smollett, but Jussie Smollett doesn't seem to want to see Chicago PD. Robin Roberts wants you to know she did a great job with her Jussie Smollett interview.
A rare show happy birthday wish to Tom Mazawey. His twitter replies have been a little silly lately.
Anthony Hamilton did a rendition of the National Anthem for the All Star game last night that was much better than Carl Lewis or Fergie's attempt.
The Elvis All-Star Tribute Show was Post Malone's attempt to show how DEEP of an artist he is. Drew also calls for a restraining order on JLo on behalf of tribute shows.
Some of the farts being texted into (209) 66-BONER sound a bit sickly.
George Mendonsa, the original #metoo & the famous kissing sailor, from WWII decided that 95 was old enough.
We are loaded up with Presidential trivia, including Harry Truman's best known saying.
Martina Navratilova is taking a non-PC stance by making comments that trans women competing is 'insane and cheating', even though she routinely beat Renee Richards.
Trudi & Drew are looking for a 2 for 1 deal on knocking down their piece of crap houses.
Congratulations to Joey & Michelle Morasso on the birth of their new daughter Gina!
The biggest takeaway from the Ferndale protest against the National Emergency is how good the President Trump mascot head looked.
Bubbles the chimp took the news of Michael Jackson's child molestation case so hard that he tried to commit suicide.
Netflix's new documentary Audrie & Daisy is a horrific look at the sexual assault & subsequent suicide of Audrie Pott at 15 years of age.
Noel Gallagher is continuing the perpetual Gallagher brother feud by threatening Liam with a lawsuit if he uses Oasis footage in an upcoming documentary about the band.
Gene Simmons is being the bigger man in platform shoes & full face makeup by choosing to not respond to the recent Ace Frehley jabs.
Tekashi 6ix9ine is going to have to make a visit to Dr. Roche to remove his multiple face tattoos before he enters witness protection.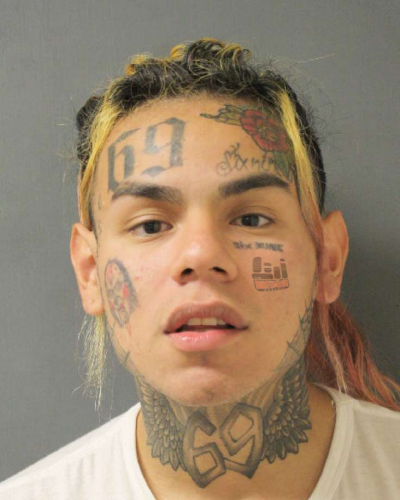 "Nah, I'm not that rapper guy. My name is Tim55." ©Metropolitan Detention Center