Podcast: Play in new window | Download (Duration: 2:28:37 — 68.5MB)
Tom Mazawey (@TomMazawey) & Marc Fellhauer (@MarcFell) are here today!
OJ's ex-manager joins us to talk about his new doc, Lamar Odom blames Dennis Hof, Maz defends murdering horses, Gillette trolls again and weathermen don't want to hear your whining.
Drew is really worried about Meek Mill's ability to get into a nightclub after the Cosmopolitan hotel threatened to have him bounced for trespassing.
The Wu-Tang Clan documentary showcased ODB's relationship with his very caring mom that do knows best.
Not a Sports Podcast Sports update: Rob Pelinka made up a whopper of a story about Kobe & Heath Ledger. Bartolo Colon isn't going to be signing with the Tigers, even though we all want it to happen.
We're calling Norman Pardo to talk about his upcoming documentary, "Who Killed Nicole" & OJ nailing Kris Kardashian.
A 10-year-old exclusive: OJ's ex-girlfriend Christie Prody broke her silence in a cadence slower than even Dr. Phil.
Lamar Odom did a GMA interview where he blamed Dennis Hoff & the Love Ranch for railing blow off of hookers & taking too much herbal Viagra.
A debate ensues over who the dumbest millionaire is today.
Maz flexes his equine veterinary knowledge while claiming that Real Sports has the story about euthanizing race horses wrong 🐎🔫.
Maz appreciates all the advice & compliments in the most recent Maz-centric Boner Line. If you have some constructive criticism for Tom be sure to call or text (209)-66-BONER to lay it on him.
Meteorologist Michael Wilbon is sorry not sorry for cutting into Game 7 of the NBA Western Conference finals. Jamie Simpson isn't sorry either for interrupting The Bachelorette with a tornado warning.
Gillette is so woke that they're highlighting transgender issues to move razors without people remembering they are a company.
Watching the Bachelorette has Drew confused about what type of man he's supposed to be. Drew also breaks up with Hannah B, but Maz is still giving her a chance.
Dr. Samuel Stanley Jr. thinks the MSU school board did an excellent job unanimously selecting him for the position of MSU President.
A 15-year-old on the east side pulled a Lil Wayne & accidentally shot himself in the leg while playing with a gun.
Drew has been binging more true crime on Investigation Discovery. The latest story is about the death of Rebecca Zahau in a swanky Coronado mansion.
Brian Williams daughter is in a new thriller/horror, The Perfection, that has a pretty hot lesbo scene.
Orson Welles newest joint is on Netflix, but it pales in comparison to his commercial work doing live reads.
Maz-sequiturs: Yacht rock is back, Adam Levine quit The Voice & The Who is at LCA tonight.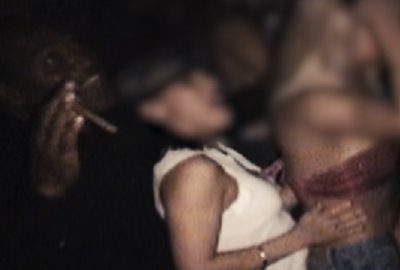 Juice being Juice. ©whokillednicole.com