Podcast: Play in new window | Download (Duration: 2:19:40 — 80.4MB)
BranDon (@Pro_Duecer) and Marc Fellhauer (@MarcFell) are here today.
Family by the Ton inspires, Surviving R Kelly is infuriating, JFK Jr was a nice dolt, John Wayne Bobbitt & Drew were on 20/20 and Marc v. Blue Cross Blue Shield.
Another Mike Clark 'separated-at-birth' is Marc's face-swap with his 8-month-old. Meanwhile, BranDon torments his 2-month-old with Snapchat filters.
'The Last Days of JFK Jr.' was all nice fluff. Thankfully Vanity Fair has a record of John and Carolyn's relationship.
20/20 on Friday featured the 'The Bobbitt: Love Hurts'. John Wayne Bobbitt's interviews never fail to entertain, but he still won't answer our phone calls.
The NFL Wild Card weekend had some good games, and one horrendous injury. Drew's childhood friend, and owner of the Indianapolis Colts, Jim Irsay had rousing post game speech to his players. Some thought he might have been imbibing. Drew shares some stories of Jimmy's high school days and LNAs.
BranDon shares more stories of his 8th Grade best friend, Homeless Al, and why there was a falling out.
Marc spent two hours (including a 'Jackson' on hold) fighting with Blue Cross Blue Shield.
Coachella adds 'Safety Ambassadors' and safe spaces to their festival. Some attendees are also upset how the owner spends his money.
Ellen really wants Kevin Hart to host the Oscars and some gay people are mad at her. CNN's Don Lemon is mad too and is demanding something too.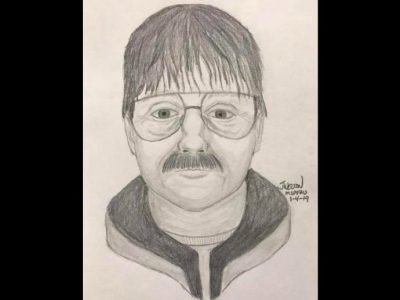 This police sketch looks familiar. ©Saginaw County Sheriff's Office