Podcast: Play in new window | Download (Duration: 2:24:19 — 83.0MB)
Trudi Daniels (@TrudiDan) and Marc Fellhauer (@MarcFell) are here today!
Too much Bradley & Gaga, Oscar talk, Robert Kraft & the Orchids of Asia report, Michael Jackson's maid spills on 60 Minutes Australia, Shinola shame and Drew hates Carrie Fisher.
Thanks to Robert Kraft's carpal tunnel syndrome we now know that Rubmaps.com exists & is the place to go to find a happy ending.
Charlotte narc'd on Marc.
Can we trade the new trite Lady Gaga for the crazy old Gaga that wore meat suits & arrived to award shows in aa giant egg. Bradley, not Brad, Cooper wins the award for being so deep.
Rami Malek is so deep that his "story is being written right now", including the part about falling off the stage after the Oscars.
After watching some more Investigation Discovery, Drew has some theories on why women get swindled.
Peter Farrelly from Maz's favorite movie The Green Book credited Shinola for saving Detroit during the Oscars which pissed some people off.
CONFIRMED: Glen Rice got it on with Sarah Palin.
3 people rented Period. End of Sentence. otherwise known as 'the mensuration movie", yet it managed to win an Oscar.
Can somebody drain Michael Myers HUGE new head that appears to be taking a square-ish Johnny Depp like form.
The 'Carrie Fisher non-sequitur' during the Green Book acceptance speech really bothered Drew. BranDon & Marc try to impress on Drew the importance of Princess Leia.
Has there ever been a really good Best Original Song from the Oscars? Shallow certainly isn't, as it should have won the Razzie.
Rashida Tlaib wants to kick Shinola out of Detroit because Peter Farrelly, who is unrelated to the company, gave them a shoutout on the Oscars.
Details about Robert Kraft's illicit activities at the Orchids of Asia day spa have been released. We also dig into the repetitive activity at the spa.
A black staffer from President Trump's 2016 campaign has filed suit for sexual harassment as she is accusing the President of clumsily kissing her.
Aubrianne Moore checked her 3 kids out of school, killed them & then committed suicide at the age of 28.
48 Hours did a disturbing piece on Daniel Marsh, who at the age of 15 stabbed a random elderly couple 128 times. He'll likely be free at 25. Yippee.
Michael Jackson's maid obsessed over dirty underwears that were scattered all throughout Neverland Ranch on last night's 60 Minutes Australia.
R. Kelly managed to scrounge up enough dough to post bail, but Michael Avenatti is about to rain on his parade with another underage sex tape release.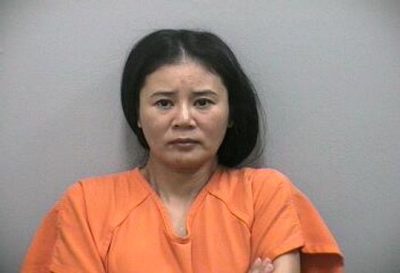 Wang accused of wang play. ©Martin County Sheriff's Office